TSX™ Dental Implants
Next Generation Immediacy meets Clinical Confidence
TSX implants Xceed Xpectations in immediacy and leverage an Xtraordinary combination of clinically proven features.1,7,8,12-14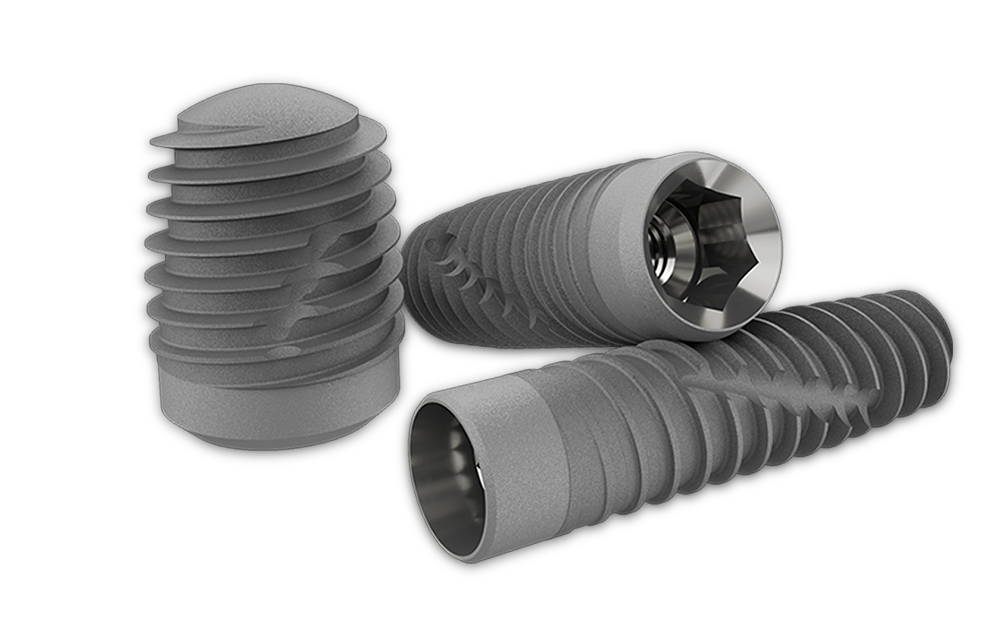 Designed to Follow the Drilled Osteotomy
TSX Primary Stability Results1*
> 70 Implant Stability Quotient (ISQ) in dense bone
> 70 Ncm insertion torque in dense bone protocol
> 60 Ncm insertion torque in soft bone protocol
(Data from in vitro testing in traditional osteotomy;  untapped averages).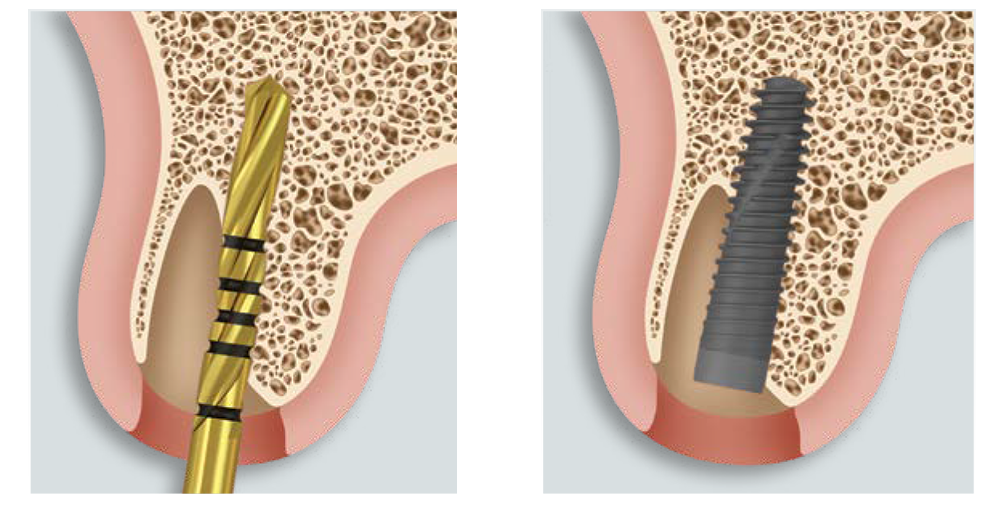 Supporting Peri-implant Health and Crestal Bone Maintenance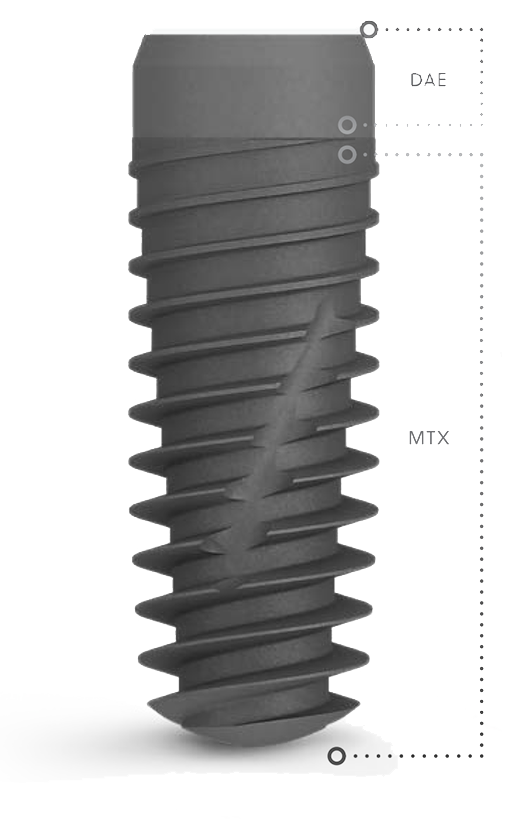 The TSX Implant leverages long-term evidence that the proprietary coronal dual acid-etched (DAE) surface Xcels in peri-implant health and crestal bone maintenance.3
Bacterial colonization promotes biofilm formation and peri-implantitis  risk.11 Minimally rough surfaces like the coronal DAE Surface exhibit  similar bacterial adhesion profiles to smooth machined surfaces that  are considerably lower than other rougher surfaces tested.1,2,12-14* 
Therefore, the DAE surface may lower the risk of biofilm formation and peri-implantits11 while offering Xcellent osseointegration  potential to maintain crestal bone.3-5
CONTEMPORARY HYBRID SURFACE
The TSX Implant leverages decades of clinical history in its combination of surface technologies shown to balance peri-implant needs in the coronal and sub-coronal regions.1-5,12-14*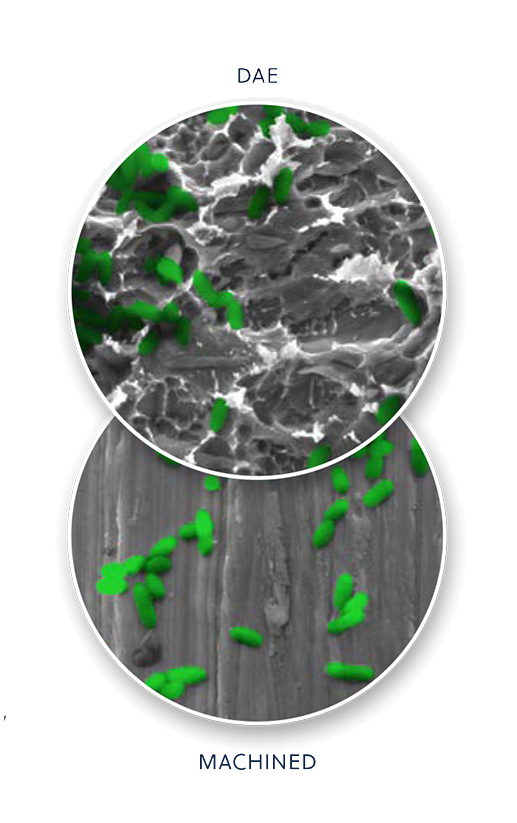 DAE Surface and machined titanium present similar bacterial adhesion profiles.
*Pre-clinical studies may not be indicative of clinical performance.
1. Data on File at ZimVie: Design Characterization, Dense & Soft Bone Placement, Full Torque and ISQ, Apical Extraction & Placement Torque in Vitro Testing.
2. Xuesong Wang, Olga Sanchez, Elnaz Ajami, Hai Bo Wen. Impact of Implant Surface Roughness on Pathogenic Bacterial Adhesion. Abstract N° EAO-266. European Association for Osseointegration, Geneva 2022. Accepted for publication at COIR Special Issue.
3. Zetterqvist L, Feldman S, Rotter B, et al. A prospective, multicenter, randomized controlled 5- year study of hybrid and fully etched implants for the incidence of peri-implantitis. J Periodontol. 2010; 81:493-501.
4. Mendes VC, Moineddin R, Davies JE. Discrete calcium phosphate nanocrystalline deposition enhances osteoconduction on titanium-based implant surfaces. J Biomed Mater Res A. 2009; 90(2):577-85.
5. Davies JE, Ajami E, Moineddin R, Mendes VC. The roles of different scale ranges of surface implant topography on the stability of the bone/implant interface. Biomaterials 2013; 34:3535-35456
6. Lazzara RJ, Porter SS. Platform switching: a new concept in implant dentistry for controlling postrestorative crestal bone levels. Int J Periodontics Restorative Dent 2006; 26(1):9-17.
7. Trisi P, Marcato C, Todisco M. Bone-to-implant apposition with machined and MTX microtextured implant surfaces in human sinus grafts. Int J Periodontics Restorative Dent 2003; 23(5): 427-437.
8. Todisco M, Trisi P. Histomorphometric evaluation of six dental implant surfaces after early loading in augmented human sinuses. J Oral Implantol. 2006;32(4):153-166.
9. Abrahmsson I, Berglundh T, Lindhe J. The mucosal barrier following abutment dis/reconnection. An experimental study in dogs. J Clin Periodontal 1997 Aug; 24(8):568-72.
10. Huang HL, Tsai MT, Su KC, Li YF, Hsu JT, Chang CH, Fuh LJ, Wu AY. Relation between initial implant stability quotient and bone-implant contact percentage: an in vitro model study. Oral Surg Oral Med Oral Pathol Oral Radiol. 2013 Nov;116(5):e356-61.
11. Subramani et al. Biofilm on dental implants: a review of the literature. Int J Oral Maxillofac Implants 2009; 24(4):616-26.
12. Park SJ, Sanchez O, Ajami E, Wen HB. Bacterial Adhesion to Different Dental Implant Collar Surfaces: An in-vitro comparative study. 34th Annual Meeting Academy of Osseointegration, Washington, DC, March 2019.
13. Bermejo P, Sanchez MC, Llama-Palacios A, Figuero E, Herrera D, Sanz Alanso M. Biofilm formation on dental implants with different surface micro-topography: An in vitro study. Clin Oral Impl Res 2019; 30:725–734.
14. Albrektsson T, Wennerberg A. Oral Implant Surfaces: Part 1-Review Focusing on Topographic and Chemical Properties of Different Surfaces and In Vivo Responses to Them. Int J Prosthodont 2004; 17(5):536-543.
15. Levin R. Determining factors for implant referral rates. Implant Dentistry, 11(4); 312-14, 2002.
Unless otherwise indicated, as referenced herein, all trademarks and intellectual property rights are the property of ZimVie Inc. or an affiliate; and allproducts are  manufactured by one or more of the dental subsidiaries of ZimVie Inc. (Biomet 3i, LLC, Zimmer Dental, Inc., etc.) and marketed and distributedby ZimVie Dental and its authorized marketing partners. ZimVie is an authorized distributor of iTero Products which are manufactured by Align Technology, Inc. Invisalign, iTero, iTero Element, the iTero  logo, among others, are the trademarks and/or service marks of Align Technology, Inc. or one of its subsidiaries or affiliated companies and may be registered in the U.S. and/ or other countries. For additional product information, please refer to the individual product labeling or instructions for use. Product clearance and availability may be limited  to certain countries/regions. This material is intended for clinicians only and does not comprise medical advice or recommendations. Distribution to any other recipient is prohibited. This material may not be copied or reprinted without the express written consent of ZimVie.  
ZV0526 REV B 02/23 ©2023 ZimVie. All rights reserved.
Customer Service & Technical Support
At ZimVie Dental, our focus is always on you. Priority attention is the hallmark of our service commitment, and we stand ready to offer you an unprecedented level of service and personalized solutions.